In the competitive world of restaurants, attracting new customers is only half the battle. The real challenge lies in retaining them and building a loyal customer base. With so many options available to diners, how can you ensure that your restaurant stands out and keeps customers coming back for more? That's where these 5 tips to boost customer loyalty come in.
In this infographic, we've compiled some tried-and-true strategies to help you increase customer satisfaction, enhance their experience, and ultimately, build a strong and lasting relationship with your patrons. From personalizing your service to leveraging social media, these tips are practical, actionable, and applicable to any type of restaurant. So, whether you're a fine dining establishment or a fast-casual joint, read on to discover how you can keep your customers happy and loyal!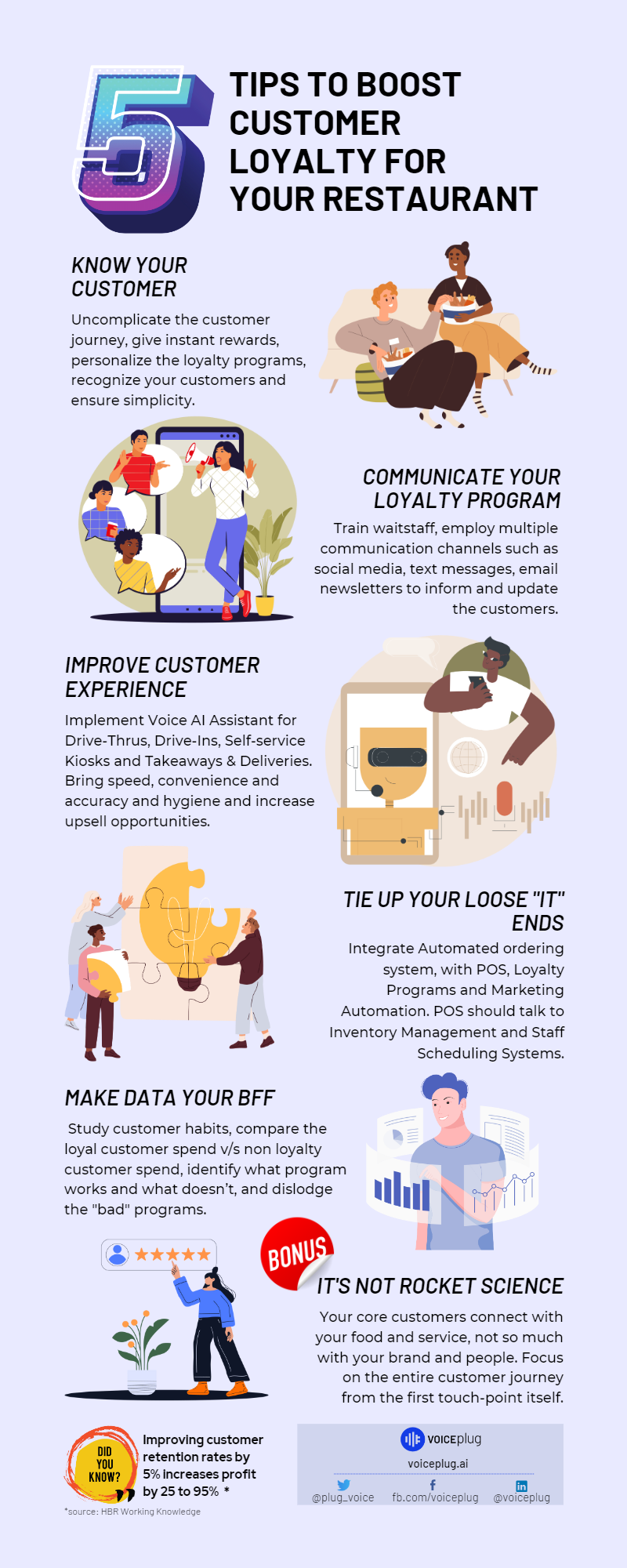 Building and maintaining customer loyalty is essential for the success of any restaurant. Introducing an effective customer loyalty program is vital for any restaurant looking to strengthen its relationship with customers and drive repeat business. In this section, we will explore a range of actionable tips that can help you boost customer loyalty and create a loyal customer base.
The first tip is to truly know your customers. By understanding their preferences, dining habits, and needs, you can personalize their experience and make them feel valued. This can be achieved through collecting their order data and turning that into meaningful insights. Another method is by leveraging tools like surveys or feedback forms to gather insights from your customers.
Another essential tip is to effectively communicate your loyalty program. Make sure that your customers are aware of the benefits they will receive by joining the program and participating in it. Clear signage within the restaurant premises or engaging social media posts can help generate awareness about the program and encourage sign-ups. Your FOH should also be trained to promote and explain your customer loyalty program.
Improving the overall customer experience is also crucial in building loyal patrons. Focus on creating a warm and welcoming atmosphere that delights guests at every touchpoint – from friendly staff interactions to prompt service delivery. Additionally, providing exceptional food quality and consistently meeting or exceeding expectations will leave a lasting impression on customers.
To stay ahead in today's digital age, consider upgrading your IT infrastructure to enhance convenience for your customers. This could entail implementing voice ai powered phone ordering sytems, online ordering systems or mobile apps for seamless reservations or takeaways. By embracing technology solutions tailored specifically for restaurants, you are empowering customers with options that suit their preferences while streamlining internal operations.
Lastly, adopting a data-driven approach can revolutionize how you engage with your audience. Utilize analytics tools to track customer behavior patterns and gain valuable insights into their preferences and spending habits. This data can then drive targeted marketing campaigns or personalized promotions that resonate with individual customers on a more personal level.
By following these tips – knowing your customer base intimately, effectively communicating your loyalty program, improving customer experience, investing in seamless and scalable IT upgrades, and embracing a data-driven approach – you can establish a loyal customer base that keeps coming back to your restaurant and becomes brand advocates.
Are you curious to find out how voiceplug.ai can be beneficial for your restaurant? Then don't wait any longer and get in touch with us to arrange a 10-minute discussion about how you can utilize Voice AI tailored specifically for your eatery's calls.