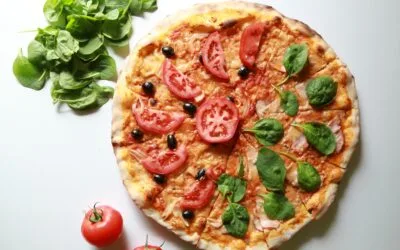 Ordering food through different means is very common in our lives. And as technology is evolving around us we keep getting an upgraded experience day by day in our interaction with restaurants. The restaurant industry is taking leverage of every piece of available technology to give its customers the best experience and the next wave in this series is using an AI-backed voice ordering system like VOICEplug.ai
Problem statement: 

Let's say Amy and Chelsea are working on their college project and they decided to order Pizza for dinner. Now, Amy wants a Cheese Pizza while Chels has decided to go with Margherita Pizza. But ordering 2 different Pizzas doesn't make sense due to various factors like price point, size, toppings, and many more and so they decided to do a Half & Half Pizza. Remember, they could have also decided to just order a normal Pizza but with different toppings on either side of the Pizza. All major Pizza restaurants support Half and Half Pizza but my favorite list includes Dominos, Pizza Hut, Papa John's, Little Caesars, Anthony's Coal Fired Pizza and Mountain Mike's Pizza.
So, looking at the trend we have 2 variations in ordering Half and Half Pizza.
1. Two different Pizza on either side
2. Pizza with different toppings on either side
Gina- The Magician

Gina (Restaurant AI from VOICEplug) decided to solve this problem by dividing them into two different buckets and catering to different nuances for ordering.
1. Guided Method: In this example, Amy decided to ask for half and half pizza and responded to each prompt and Gina guided the conversation smoothly. Let's look at it with the help of an example:
Amy: I want a Half and Half Pizza
Gina: Please let me know what Pizza would you like to order.
Amy: I want a cheese Pizza
Gina: Do you want a small or large pizza?

Amy: Large
Gina: What toppings would you like on the left side of the Pizza?

Amy: Mushroom and Olives
Gina: What toppings would you like on the right side of the Pizza?
Amy: Pepperoni
Gina: Thanks! I have added one Large size Cheese Pizza with Mushroom and Olives on the left and Pepperoni on the right
2. Fully Conversational: In this scenario, Chelsea decided to order by asking for all the modifiers in one single sentence.
Chelsea: Can I get Half Cheese and Half BBQ Chicken Pizza without Olives?
Gina: I have added Half and Half Pizza with Cheese Pizza on the right and BBQ Chicken Pizza on left. Also, removed Olives from the Pizza.
So, looking at the above example we can see how Gina has been able to process the order with ease and perfection. 
VOICEplug is disrupting the restaurant ordering business with its world-class AI technology and helping its customers focus on scaling their businesses to greater heights. 
If you would like to see Gina in action please drop a note to us at [email protected]